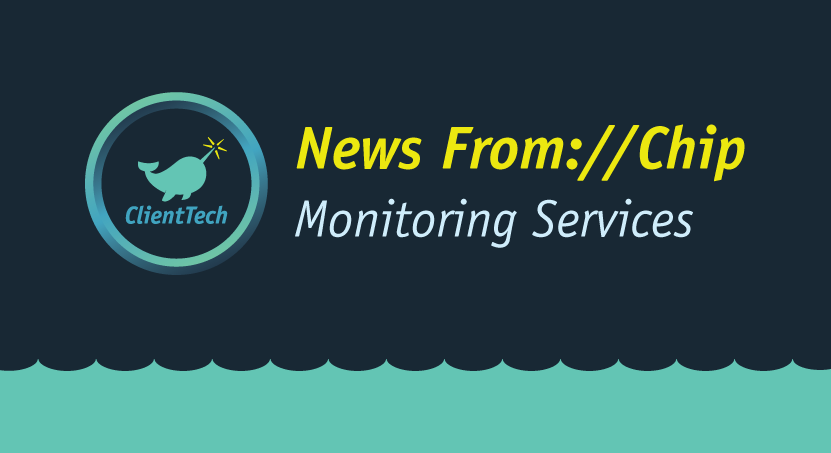 When was the last time you didn't have to worry if your network was secure and up-to-date? Many companies rely on a monitoring service to provide them with real-time, round-the-clock monitoring & maintenance for all of their computers.  Sometimes those services are the only hope of salvation for their business.
What causes IT outages? Human error, configuration issues, and environmental factors can all contribute.  Implementing computer monitoring is one of the most basic and simple ways to prevent these outages from happening in the first place.
In a down situation, time is money.  Monitoring helps you to be proactive rather than being reactive.
What is a Monitoring Service?
Monitoring involves an agent that is installed on each computer.  The purpose of the agent is to monitor the computer's system resources like CPU Usage, Memory Consumption, I/O, Network, Disk Usage, Process etc.  The agent can also help with updates and patches.  The agent constantly communicates with a Monitoring host in order to help you detect, diagnose, and resolve computer performance problems, many times before the user even knows about it.
Purpose of Monitoring Services
Monitoring services are necessary to assure the website's availability to users and idle time is at its minimal value. Their purposes are to ensure customers' ability of accessing online applications on their website and performing such arrangements as account balance checking, online shopping, researching, or simply searching.
These particular services may cover a lot of things needed to work within an application, such as Domain Name System records, bandwidth, database and network connectivity, and also such computer resources as CPU load, events, free RAM, disk space and so on.
Website monitoring and server monitoring services are in most instances crucial and can be of urgent significance.
Benefits of Monitoring service
1.Better productivity
Most computer issues display warning signs before becoming critical issues.  Most of theses signs, if left unchecked, could easily become critical issues.  Besides fixing critical issues, you will be able to improve performance on a day-to-day basis.
2. Better Reliability
A stable computer makes a happy user.  Most monitoring agents include anti-virus and spyware detection and removal.
3. Save Money
Reactive hourly based support for a small business is typically unstable and hard to budget.  Being able proactively detect and resolve most computer issues saves downtime and therefore money.
ClientTech is here for all your IT service needs. From troubleshooting to network monitoring, we provide you with fast, reliable services to make sure your business is running efficiently. Call us at 225-572-2111 or visit https://www.client-tech.com to learn more.