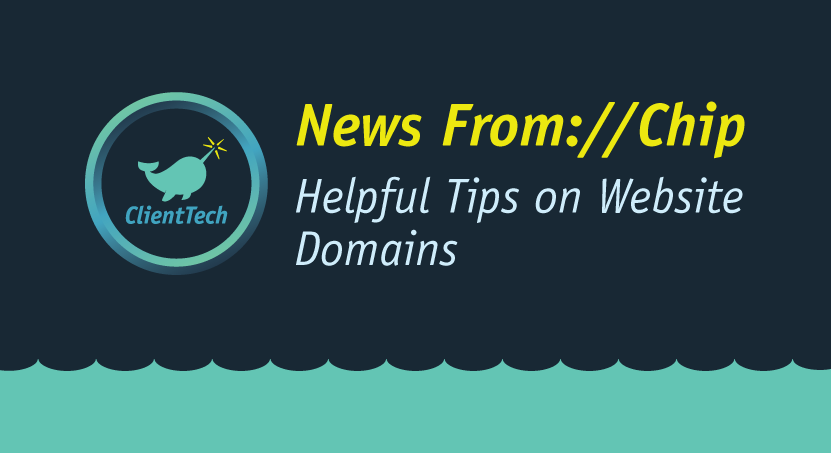 One of the most important decisions in establishing an online presence is choosing a domain name. The right domain name for your website is important, for both your target audience and search engines.
Navigating the world of domain names can be a daunting task if you're not up to speed on how to get one. With countless caveats and hosting companies out there, it's easy to be overwhelmed or worse, make a mistake that could ultimately cripple your business. Here are a few tips to keep in mind when choosing a domain name.
Buy domains that are easy to type and remember
Even if you plan on optimizing the site for search engines, you still want a domain name that people can remember and type. Avoid odd spellings of words, multiple hyphens or other characters, numbers and so forth. Anyone hearing your name should know how to type it without you having to say things such as "the number 4" and "dash-dash."
You should also avoid words that have more than one spelling if your visitors are likely to be confused and mistype the name. Alternately, you can buy both versions of the name and direct visitors from the one you like less to the preferred name. While you do want a short name (see below), don't go for something so cryptic that people have a hard time remembering it.
Stick with .com if you can
Most people assume a domain name ends in .com so if you buy a domain name with one of the other extensions (.net, .info, .org, etc.), you'll have some extra work to get people to remember that your site has a different extension. Don't automatically assume you should only buy domains with .com, though. Many sites have done quite well with other extensions.
Hyphens are a mixed bag
Using hyphens to separate words in a domain name makes it easier to read and makes it somewhat easier for search engines to recognize the individual words. However, people often forget about the hyphens when they type domain names. Hyphens can be a sign of spam domains, which you do not want to be associated with. You don't want to give the wrong impression to potential visitors.
Check availability on social media sites
When you have a name picked out, go see if that word or phrase is available on social media sites like YouTube, Twitter, Facebook, Instagram, Pinterest, Google+, and Tumblr. Even if you don't plan on using social media right away, you'll want to have the option when you're ready, and it's easiest if you can use the same phrase on each site.
Keywords play an important role in a domain. By using keywords in your domain name, you tell the search engines what your website is about. Together with quality content and good user experience, keywords in your domain can help you rank higher in Google. It is very hard to find a good domain with your target keywords that's not already taken. You will need to be creative and combine your keywords with other words to make your domain stand out.
There are hundreds of domain registrars on the web. It's important to choose carefully, because it can be difficult to move your domain later on.